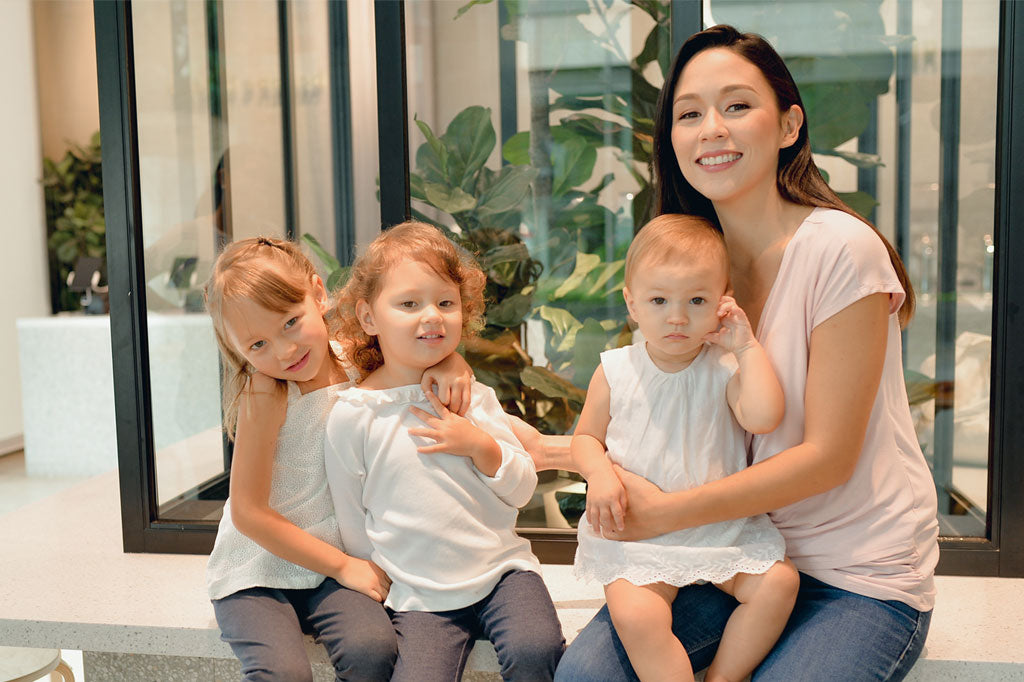 We were super excited to have a shoot with Tata Garcia-Long this year. She was Elin's very first model 6 years ago, when she was just newly-engaged. Since then, we've had 2 or 3 photo shoots with her (maternity shoots included), and we're happy that she always finds time for Elin. Can we also mention that she hasn't changed in 6 years - she's as beautiful as ever.
If there was a definition of "supermom" in the dictionary, we're sure the photo beside it would be hers! Tata is a full-time mom of 3 young and adorable girls - Kaliya, 5 years old; Kaire, 3 years old; and Koko, 1 year old. She's also wife to Kirk and they currently live abroad. Luckily, they were all able to join our shoot last June. We had a great time with them and love how the photos turned out! We can't stress enough how cute this family is. Enjoy!
Tata in our Rachel top:
What is your go-to pregnancy style?
"I love comfortable fabrics, solid colored outfits that i can repeat.  A simple top thats a bit longer than my hips and leggings, as well as a nice presko dress. :)"
Tata in our Penny dress:
Wearing our Parker dress:
How did you prepare your daughters for a new sibling? 
"By teaching them how to be my helper so that when the baby comes, she can also help me get certain things I need. Also by being kind and gentle to other kids in our community so they know how to treat their younger silbing/s."
Tata is wearing our Danica dress:
How did your birth stories differ from each other?
"The first two were pretty similar, but the third was my biggest baby and I pushed the longest with her and it was definitely not the easiest."
Tata in our Avery maxi dress:
Any advice you can share with moms who are pregnant for the first time?
"To embrace pregnancy. :) If things are a bit harder than you imagined, to not be afraid to ask for help because having the right support will make your journey a whole lot better."
Wearing our Antonia dress:
How do you manage being a mom to 3 young children?
"My husband is a super great dad! For as long as I focus on the baby, he takes care of the older kids. When I'm preparing dinner, he has all of them. ;) That helps me heaps!
Tata in our Sorel top:
What's your idea of "self-care"?
"Taking time alone and having a massage or going to the salon!"
Tata in our Mia top:
What's the best thing about being a mom? 
"That being a Mom is a HUGE BLESSING and when you see your children happy and excited about the simple things in life. They are my constant reminders to take things lightly. :)"
Wearing our Mari dress:
Tata is wearing from top to bottom: Rachel top in white, Penny dress in black, Parker dress in emerald, Danica dress in olive, Avery dress in dark purple, Antonia dress in cream, Sorel top in navy, Mia top in blush, and Mari dress in teal. Photography by Happy Folks Photography. Hair and make up by Wheng Legaspi. Shot on location at Harlan + Holden Coffee in BGC.