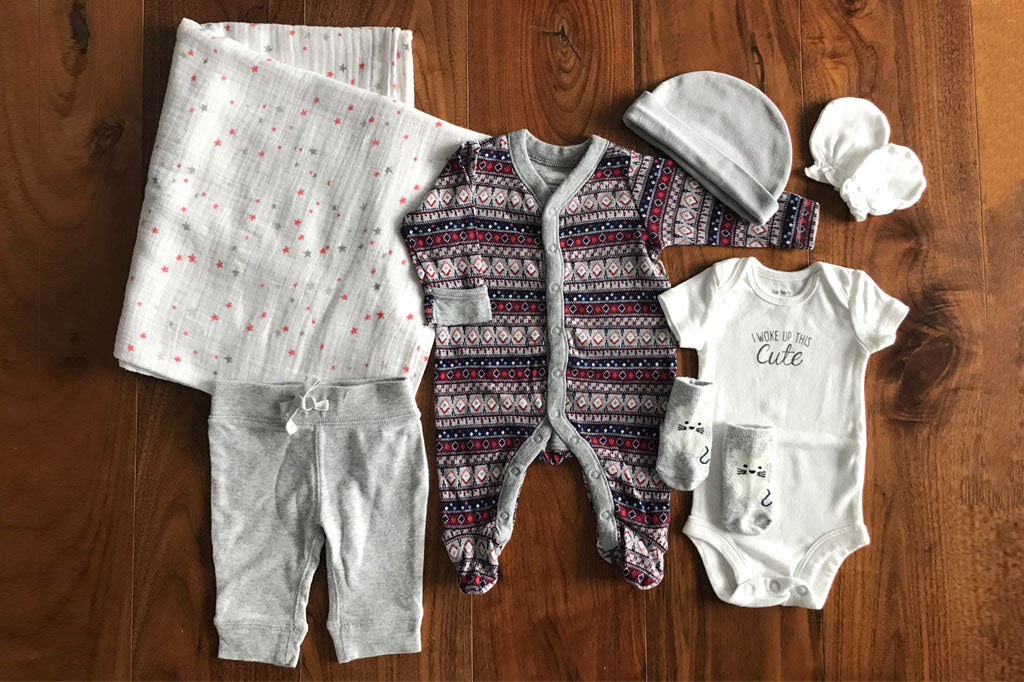 Are you a first-time mom and have no clue where to start and what to buy for your coming newborn? Don't worry! We've come up with a list of the bare necessities and basic stuff your little one will need. When buying clothes for the baby, keep in mind that for at least the first year, your baby will outgrow his or her clothes every three months or less, so we don't suggest splurging on clothes (no matter how cute they are!)
Here's our version of a newborn essentials checklist:
 Clothing
8 to 10 onesies with wide head and leg openings and snaps under the crotch (for quick and easy diaper changes) - We find these to be easier to use than separate side-tie t-shirts and bottoms.
5 to 10 pajama or jogging pants -You'll want to make sure the baby is always warm and cozy. Also great for preventing mosquito bites!
5 to 10 one-piece or footed pajamas with opening under the crotch 
1 to 3 rompers or other "pang-labas" dress-up outfits for when baby needs to go out
5 to 10 pairs of socks or booties (buying shoes is unnecessary until the baby learns to walk)
1 to 3 cotton bonnets or beanies
5 to 7 mittens
5 to 7 swaddle blankets - You can use muslin blankets or swaddle blankets with velcro (like SwaddleMe). You can also these muslin blankets as bed covers, stroller covers, etc.
 Nappy needs
1 changing mat – This keeps poop and pee away from your bed sheets or changing table and can easily be cleaned.
15 to 20 gauze or bird's eye cloth diapers or "lampin" - These are a must! you'll need these regardless whether you'll be using disposable or cloth diapers – use them for sweat, drool, bed cover, blanket, etc.
50 (or more) newborn size disposable diapers (if you plan to use disposable diapers) to start with, or 6-10 diaper covers and diaper liners for moms who choose to use cloth diapers.
3 bags of cotton balls to start or unscented baby wipes (for less skin irritation) 
1 tube diaper cream like Drapolene or 5-10 sachets Calmoseptine cream (generic name: zinc oxide + calamine) just in case your baby gets a diaper rash.
 Nursery needs
1 crib, cradle, co-sleeper or bassinet – Basically somewhere safe and cozy for baby to sleep in.
Changing table or dresser - This is optional as long as you have a comfortable and convenient place to safely change your baby.
1 firm, flat mattress that fits snugly in the crib or Pack and Play (less than two fingers should fit between the crib and mattress).
An arm or rocking chair for breastfeeding or rocking the baby to sleep - a Laz-boy (if your budget permits) would be great for this!
Night light - For those late-night diaper changes. Keep in mind that its best to keep the room dark at night for better sleep.
Baby monitor or CCTV - This is if you are planning to put baby in another room for sleeping. For working moms, CCTV would be ideal so you can keep an eye on your baby while at work.
Toy basket or container - For teethers, rattles, and other toys.
 Bedding
1 to 3 washable pad or protector (for pee and poop accidents).
2 to 4 fitted crib sheets.
Gentle baby laundry detergent for washing – We recommend Tiny Buds or Cycles for all beddings and baby clothes as well to avoid rashes.
Bath
1 baby bathtub (Click here to watch: How to bathe your baby)
Baby soap and shampoo - We recommend mild brands like Mustela or Sacred for your baby's first baths.
2 to 4 soft or hooded towels
Soft-bristled baby hairbrush
Feeding*
5 to 10 bottles and nipples, both 4-and 8-ounce bottles. Start with a Newborn nipple and adjust to a bigger size only when you feel your baby is starting to find the flow too slow. You don't necessarily have to follow the suggested months on the nipple (for example, changing the nipple to a 3 to 6 months level nipple when your baby turns 3 months). Keeping the nipple hole small helps avoid nipple confusion (if both breastfeeding and bottle feeding).
Gentle baby bottle and nipple dishwashing liquid - Tiny Buds is also a good brand for this.
Baby bottle brush
Breast pump - Lactation consultants usually recommend that you start pumping 6 weeks post-partum to avoid oversupply and mastitis. Some moms start pumping as early as 2 weeks to start building their milk stash. The choice is yours. :) Other moms don't pump at all and prefer to just direct feed. It's usually moms who work outside the house who need to pump regularly. Though pricier, we recommend getting a dual electric pump to save your time and energy.
Milk storage bags or bottles
Breast pads - For those annoying leaks.
Nipple cream - We also recommend using breast milk for sore nipples but this is another MUST-have for the early breastfeeding days!
Nursing pillow - Helps the baby nurse in a comfortable position.
Sterilizer - You can opt for a UV sterilizer or the traditional steam sterilizer. Both do the job! The new UV sterilizers just make life a little easier because they have built-in drying features as well.
Bottle basket for drying bottles if you decide on a steam sterilizer.
5 to 10 bibs - For milk and drool.
Burp cloths - The trusty "lampin" also works for this.
*Please note - you will need the above items only if you plan on bottle feeding your baby. 
 Health and grooming
Baby nail clipper or blunt scissors
Ear or digital thermometer
First-aid kit - you can buy this is baby specialty stores
Baby hair comb
Nasal bulb aspirator - This is very helpful in getting mucus out when your baby has a cold.
 Other items
Infant car seat – Our government just passed a bill requiring car seats so this is now a must!
Stroller - Options here are endless so make sure to take your budget, convenience, and use into consideration.
Baby carrier or sling - Same comment as the stroller. Ask your mom friends for recommendations. Even better, try to borrow a few different kinds to see how you and your baby like them before buying your own.
Need help finding these products? Or did we miss out on anything? Share them on the comments section below. We were all clueless first-time moms at one time, so why not help each other, right? Good luck and enjoy motherhood!