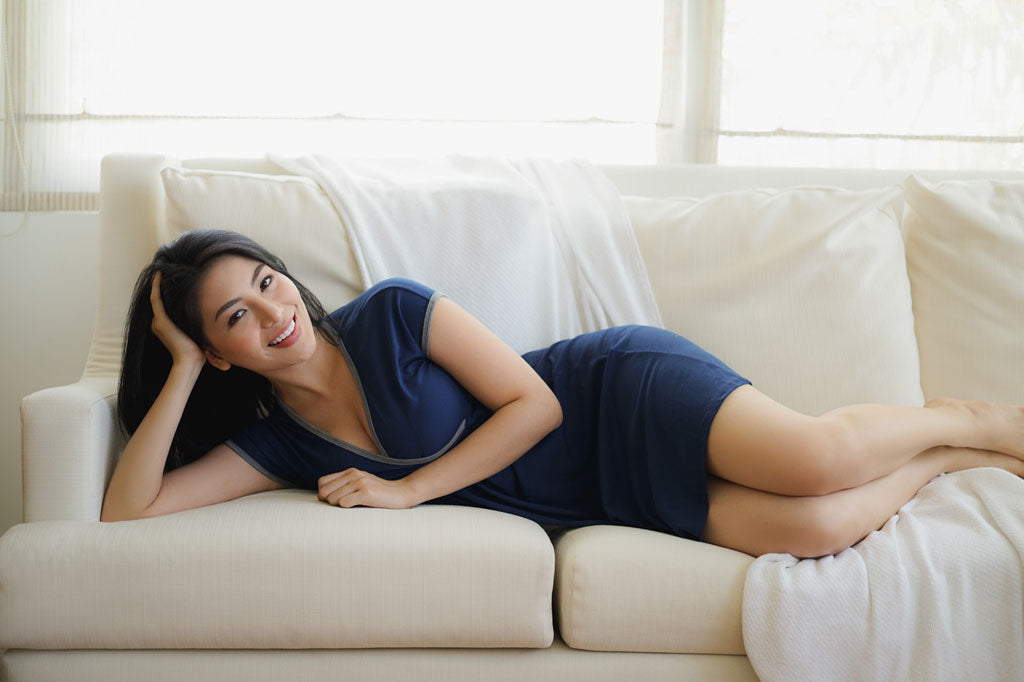 The first few weeks (or months) after giving birth is usually a blur of feedings, changing diapers, 3-4 hour stretches of sleep, and staying home with the baby. When you're in the middle of it all, the last thing you want to do is think of what to wear. Fortunately, our loungewear keeps you comfortable while still looking presentable, especially when guests unexpectedly drop by to visit the baby. Plus, they all have easy nursing access which means you can keep the hungry cries of a newborn to a minimum (or at least as short as possible). 
Our Milka Dress features pull-down access and an easy silhouette that looks great on everyone. Comfortable enough to sleep in but still presentable for when baby has visitors. I lived in this dress for about 6 weeks after giving birth. :)
Our Millie Kaftan has snaps on the shoulder that you can easily open for when baby needs to nurse. Moms have used this as a hospital gown, going-home-from-the-hospital dress, and I've actually worn this at the beach! Pair it with an easy access bikini top and voila, you can be nursing at the beach with no problem. 
Our Mila Dress is a little more dressy with its collar detail and longer sleeves. This can also be used as a nursing dress - just unbutton and move it to the side. Important to note that this is for direct nursing and not recommended for pumping. A great look also for when you have visitors at home or in the hospital.
Our Ellie tee is not technically part of our loungewear but it can be, thanks to its soft material and comfortable fit. Pair it with our ultra-comfortable lounge pants and you have an easy look you can move in, day in and day out.
Click here to see more of our nursing and maternity loungewear styles. Photography by Happy Folks Studio. Hair and make up by Wheng Legaspi. Model is Kim de Guzman.