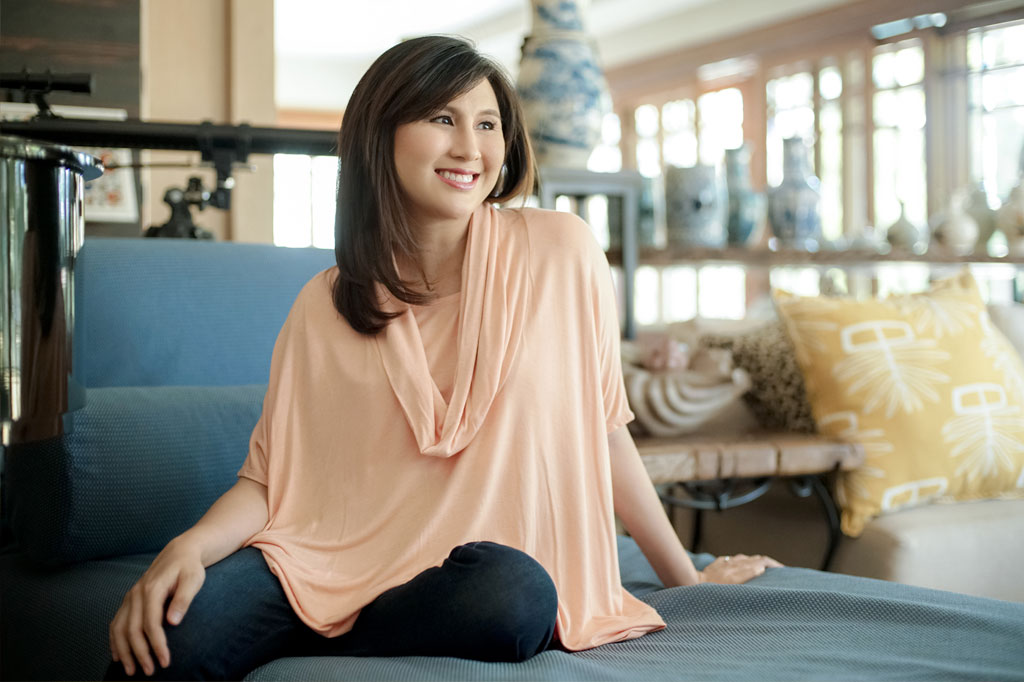 First time mom-to-be Aisa King-Bianchi is excitedly expecting her baby girl this August. Up until a few months ago, she was a management consultant for a top strategy consulting firm and is currently helping out her family business after spending 10+ years in corporate/MBA both here and abroad. She and her husband Federico gamely joined us for a maternity shoot last May.
How has your pregnancy been so far?
"I'd describe my pregnancy as empowering. I've always been terrible at any form of sport or physical activity, but now that I'm pregnant, I've come to realize how strong my and other women's bodies really are! Given all the discomforts, pregnancy is truly a labor of love."
What pregnancy symptom are you experiencing that you didn't expect? Or did you expect to experience something that you haven't yet?
"I had terrible nausea and evening sickness (instead of morning!) in the first trimester – I didn't expect this at all, as I am not prone to dizziness or motion sickness. The second and third trimesters are far better, other than the typical pregnancy discomforts of having to manage a new body. For example, I can't sit for prolonged periods – my belly just feels squashed! It's a challenge to hunch over a laptop or sit through long meetings while at work."
What are you doing to prepare yourself for delivery and motherhood?
"My husband and I enrolled in childbirth and early infant care classes. We have also both started reading our share of parenting books – he's focusing on the physical aspects of caring for children (e.g. co-sleeping, breast vs. formula feeding, etc.), while I'm reading up on the latest thinking on brain development and emotional intelligence. I think I have tiger mom tendencies, so I am making a very deliberate attempt to choose books that encourage children to learn and develop at their own pace (vs. those that teach you how to raise a Math genius at age 2!)."
What is the best piece of motherhood advice you've received (from friends or family)?
"The best piece of advice I received came from my husband who is very "big picture" (vs. me who likes to overly worry about every small detail!). He constantly reminds me that 80% of being a good mom is simply loving your baby. Everything else – the brand of car seat you buy, your ability to breastfeed, the play school you choose – they matter nowhere near as much as genuinely loving and caring for your baby in the best way you know how."
What part of being a mom are you most excited about?
"So many things! I am excited to finally hold and cuddle my daughter. I am excited to share in all her life's milestones – her first word, her first taste of ice cream, her first trip to Disneyland. Finally, I am excited to introduce her to two different cultures! My husband is Italian, so I would love for our daughter to appreciate her diverse roots and each country's respective unique traditions, histories and languages."
Aisa is wearing (from top to bottom): the Emily top in pomelo, the Natalie top in blue, the Pia top in peach, the Kimberly dress in pine green, the Carmen dress in charcoal, the Tyler top in mulberry, the Ivy dress in navy chambray, and the Abigail dress in dark purple. Photography by Happy Folks Studio. Hair and make up by Wheng Legaspi.