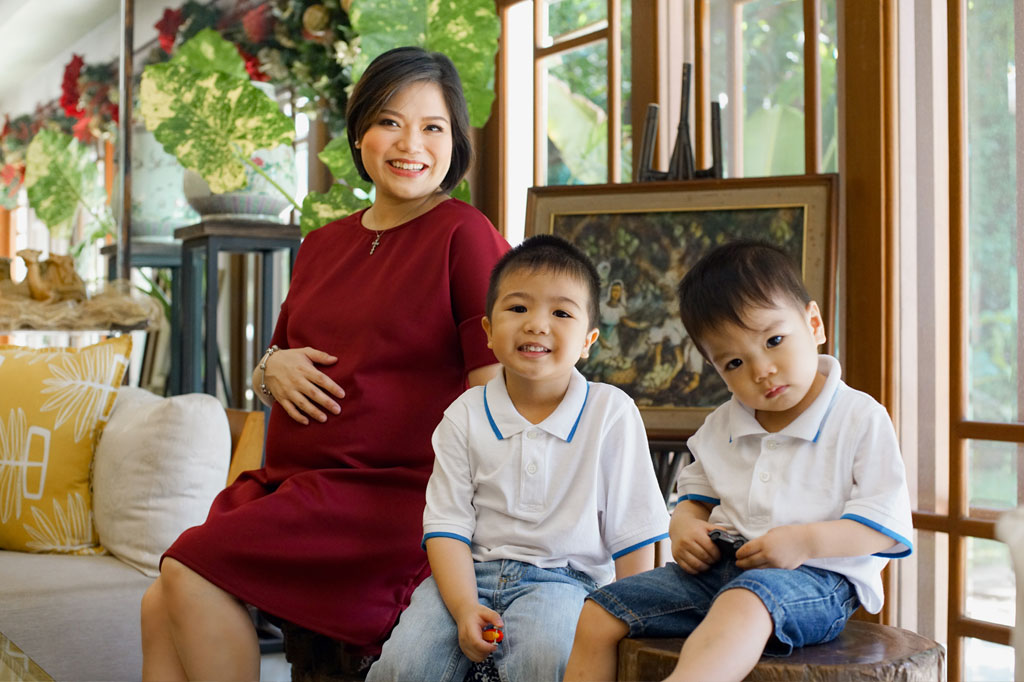 Motherhood by itself is challenging, what more balancing being a mom to 5 (soon-to-be 6) children and being a Medical Oncologist/Physician at the same time? Supermom Pauline Peronilla-Cauton shows us that this can be done! We had a fun and casual Christmas shoot with her and 2 of her youngest sons last month. She was a natural in front of the camera and so were her boys, as long as Baby Shark was on repeat. Read on to learn more about how she balances her work as an oncologist with motherhood.
How many kids do you have and how old are they?
"I have 5, soon to be 6 - Joaquin, 11; Reese, 8; Siena, 6; Francis, 4; Anthony, 2; and Gianna coming soon!"
How has this pregnancy been so far? Is it the same or different from your other pregnancies?
"All my pregnancies in general have been relatively easy, I suppose—no major reasons for bedrest or limited activity, no medical problems. The past 3 pregnancies (this one included) I never even stopped going to work until  the very moment of delivery! But with these more recent ones, I have to admit, I do feel how pregnancy can get a bit harder as I get older—I find I get tired more easily, and the aches and pains are definitely there. I just do what I tell my patients to do—listen to my body and rest if and when I need to."
How do you balance your time between your work as a doctor and your family life?
"Every doctor-mom will tell you that it's never easy. There will always be those moments when 
you feel guilty for not being home (especially when you have to go on overnight duty at the hospital) and those really low moments that you doubt whether you're being a good mom or not. A supportive husband makes a big difference—during my years of training, my husband Peter would rearrange his meetings for work to attend PTCs in school and do our weekly grocery shopping. It also helps to train the kids early to be independent, especially with their schoolwork. Lastly, whenever I do get to spend time with them, I make sure that every moment counts."
What are your pregnancy and baby must-haves?
"Since a lot of my pregnancies entailed me going back to work in the hospital (at one time as early as just 2 weeks postpartum), I've had to learn how to be efficient with building up my milk stash. After how many pregnancies, I think I've got the system down to a tee—a pumping schedule, finding a suitable place to pump, always having my electric as well as my manual pump for emergencies, access to a ref/freezer. My must-haves therefore are mostly related to pumping and milk storage—a good, reliable pump (so many choices out there now), storage bottles/bags, cooling element and insulated bag for transport, a nursing cover and of course a wide array of nursing tops and dresses from Elin! I need to keep myself equipped to be able to do what I need to do wherever and whenever." 
Any advice you can share with moms who are pregnant for the first time?
"Take the time you need to breathe. Things can get, (will get!), overwhelming, but know that God has already given you everything you need to be a good mother to your son or daughter. Don't be ashamed to ask for help—a mommy needs her rest, too. Just take it one day at a time. Don't feel any pressure to do things a certain way—more than a certain parenting style or even breastmilk, the most important thing you can give your child is your LOVE."
What is your go-to pregnancy style? 
"Comfort comes first! Especially since I go on hospital rounds, I need to be wearing something that won't hinder movement or a lot of walking. Comfortable shoes are a must, and easy-breezy clothes that allow your body (especially your tummy!) to breathe. Now that Elin is around, I can still choose comfort without having to sacrifice style! :)"
What's the best thing about being a mom?
"Seeing that spark in your children's eyes when they see you, when they run to you to hug and kiss you. On being a mom with a LOT of kids? Seeing how unique and different they are, but all of them somehow still a tiny version of you. How love bears fruit in this way is truly a miracle—a gift from God whose love also bears fruit in each one of us."