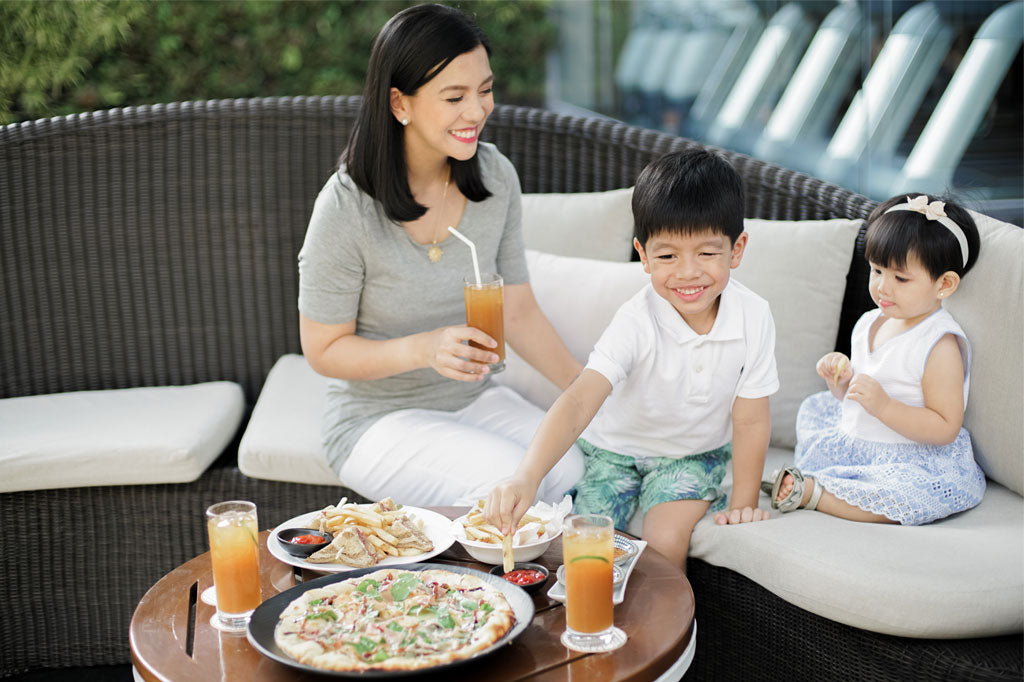 For a lot of families, summer means the chance to travel and explore new places together and for this post, we asked Elin partner and mom to two young children 4-year-old Rafa and 1-year-old Marga to share her own experiences traveling with her kids. She and her husband took their son on his first trip when he was 10 months old and they've been traveling with him ever since. Last year, they took Marga on her first family trip to Bohol when she was 4 months old.
For those who can't make it out of town, summer can also mean staycations. Makati Diamond Residences (our partner for this shoot) is a great option for those looking for a fun mini-vacation in the city. With one-bedroom suites, a family-friendly pool, and a great location, its perfect for a weekend break. See the photos we took there below:
What has your experience been traveling with your kids? "Honestly, it's hard work but worth it. I don't regret bringing my child/children with us on a trip in spite of the extra work it entails. I know a lot of people say 'why bring them when they won't remember anything because they're so young', but we (as parents) are the ones who remember! It's such a joy seeing them experiencing things for the first time, especially things that we don't have easy access to living in Metro Manila. For example, my son loved the deer in Nara, Japan and until now we enjoy watching videos of him interacting with them."
"At the end of the day, it really depends on your family dynamics. If you feel you can bring your child or children and still have a good time, go for it! Don't forget, it should be fun for everyone. It might be a little challenging during the trip itself, but the memories you'll make with your kids are priceless."
What are your must-haves when traveling with kids? "We always bring a few favorite books, small toys, and snacks for the airplane or car ride. We also make sure we have an extra change of clothes for the kids, enough diapers, baby wipes and tissue, drinking water, a light jacket, basic medicines (paracetamol and anti-histamine) and lots of versatile lampins. We also have a good stroller and carrier where our kids can take naps on the go when we find ourselves out the whole day."
"Of course, I have to be honest and include the Iphone or Ipad for my son! I wish I was one of those moms who can keep their kids away from the screen all the time but honestly, I really can't haha. Some screen time can be such a lifesaver while traveling, especially on long-haul flights or extended airport stays. We have rules regarding the use of the phone at home but we relax them a bit when on trips (to keep us all sane). I'm also still breastfeeding my daughter so an easy access nursing top from Elin is a must."
Any tips on traveling with kids? "I'm no expert but I can say that you really just have to relax, manage your expectations, and enjoy! I find it easier to have an itinerary that is open to change and adjustments. You have to make time for naps, extra bathroom breaks, and other unforeseen circumstances. A little extra research also on other details like what restaurants are child-friendly, how far sights are from each other, and what the weather will be are also a must."
"Here's an example of learning the importance of being flexible - on our first US trip with my then 2-year old son, he got an ear infection and a fever that kept us home for 4 days. At first I was super stressed about it, since I was worried about him and also felt we were missing out on our vacation days. However, after we brought him to the doctor and found out what he had, we decided to make the most out of the days spent at home and enjoyed catching up on our shows while he was recuperating. It was useless getting stressed about it. I also highly recommend getting travel insurance. We were able to reimburse the doctor's visit (which was $200 for a single consultation!) and even his antibiotics when we got home."
What is the best piece of motherhood advice you've received? "Just to enjoy your kids. Surprisingly, it was my husband who gave me this advice when I was a stressed-out new mom. He reminded me that our son was growing everyday and would never be that small again. It reminds me to just enjoy every moment I have with my kids because time really does fly."
What's the best thing about being a mom? "The unconditional love between you and your children. The love they give you and the love you feel towards them as well. How their faces light up when you walk into the room (at least for now haha). There's really nothing else in the world like it."
Shot on location in Makati Diamond Residences in Legaspi Village, Makati City. Elin customers get an exclusive special rate this summer. Click here to avail of it: SPECIAL ELIN PROMO. Martina is wearing from top to bottom: Maya top in teal, Audrey top in sky blue, Michelle top in mulberry, Triska top in old rose, Alessandra top in blue, Rory top in heather gray, and Ginny maxi dress in red (coming soon). Photos by Happy Folks Studio. Hair and make-up by Wheng Legaspi.